Harry Shapland Colt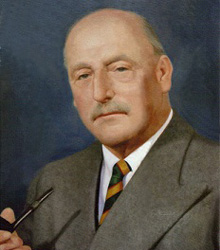 "Immediately when we attempt to standardize sizes, shapes, and distances we lose more than half the pleasure of the game."
~ H.S. Colt
LIVED: August 4, 1869 – November 21, 1951
ORIGIN: Highgate, England
BEST COURSE: Royal Portrush (Dunluce Links)
LEGACY: One of the most important influences for early golf course architecture. Defined the profession of golf architect, being the first non-professional golfer to design courses. Created visual challenges to tease and intrigue the golfer. Excellent strategies through bunkering and length (all clubs).
NOTEABLE COURSES:
Rye Golf Club (original designer, secretary), Rye, East Sussex, ENG (1895)
Swinley Forest Golf Club, Bershire, ENG (1910)
Toronto Golf Club, Toronto, ON, CAN (1912)
Eden Course, St Andrews, SCO (1913)
St. George's Hill, Surrey, ENG (1913)
Hamilton Golf and Country Club, Hamilton, ON, CAN (1916)
Pine Valley (advising Crump), New Jersey, USA (1918)
Sunningdale Golf Club (New), Berkshire, ENG (1922)
Utrechtshe Golf Club (De Pan), Utrecht, HOL (1928)
Milwaukee Country Club, Milwaukee, WI (1929)
Royal Portrush (Dunluce Links), Antrim, N.IRE (1933)
REMODELLING WORK:
Sunningdale Golf Club (Old), Sunningdale, Berkshire, ENG

re-design of Willie Park Jr. course completed while still secretary at Rye

Muirfield Links, Muirfield, SCO

the club purchased new land in 1928 and had Colt re-work the course
BRIEF BIO:
started as a lawyer and partner in the Hastings Law Firm of Sayer & Colt
may have been the first to become a golf architect without being a professional first
short-lived partnership with Alister Mackenzie
partnership with Charles Alison and John Morrison – 300 courses worldwide
preferred to work close to home (U.K. and Europe)

key influence to golf in Belgium and Holland
trusted his partners for foreign work (e.g. Alister Mackenzie in Australia; Charles Alison in Asia and the Far East)
IMPORTANT LINKS:
PUBLICATIONS:
Some Essays on Golf Course Architecture, H.S. Colt and C.H. Alison